"The City of Carlsbad's Aloha Plunge will take place this year on Saturday, June 23, at Alga Norte Aquatic Center. Enjoy fun, island themed pool games and activities, giant inflatables and key logs, Polynesian dancers, and the movie Alvin and the Chipmunks: Chipwrecked (rated G) on the giant outdoor movie screen."
Click here for more information!
"The City of Carlsbad's TGIF Concerts in the Parks begin June 22 at Stagecoach Community Park, located at 3420 Camino de los Coches. The outdoor concert series runs every Friday through Aug. 17, from 6 to 8 p.m., at community parks throughout the city. Venues open to the public at 4 p.m. Admission is free."
Click here for more information!
"Adventure Readers was founded by Leslie Poznanter, a mother and grandmother who has worked as a reading tutor for over 20 years. Leslie's innovative teaching style has had incredible success helping children of all ages, including kids with learning disabilities and ESL students. It became a regular occurrence for parents to come to her with children who had been told they would have to repeat a grade––only to succeed in bringing that child up to grade level reading, and often beyond, in just a few sessions."
Click here for more information!
"Film is a modern visual art form that entertains, educates and enlightens. Spanning a wide range of genres, themes and styles, they represent the breadth of human experience in society through the visual medium of storytelling. Whether a foreign film, an edgy drama or a nostalgic musical, film invite audiences to enter new worlds and broaden their perspective by experiencing a filmmaker's vision.
All films are presented with free admission and seating is based on a first come, first served basis. Screenings are located at the Carlsbad City Library, Schulman Auditorium at 1775 Dove Lane."
Click here for more information.
"Entering its ninth year, the 2018 Kia Classic will be held at the Park Hyatt Aviara Resort in Carlsbad, California March 19th – 25th. The Kia Classic features 144 of the best women golfers playing for the $1.8 million purse. The field features 2017 Kia Classic Champion Mirim Lee and crowd favorites Lydia Ko, Paula Creamer, Stacy Lewis, Michelle Wie and Lexi Thompson."
Click here to purchase tickets to the event.
Opera diva Florencia travels the Amazon river searching for her lost love in Daniel Catan's, Florencia en el Amazonas. Carlsbad Library's Opera Previews series continues with musicologist Dr. Ron Shaheen offering in depth previews and background into the 2017-18 San Diego Opera performances. Mar. 17 at 10 a.m at Ruby G. Schulman Auditorium, Dove Library Complex | San Diego Opera.
Click here for more information.
For questions, contact the Carlsbad City Library at 760-602-2049 or librarian@carlsbadca.gov.
The Carlsbad City Library is hosting a concert in January at the Ruby G. Schulman Auditorium in the Carlsbad City Library complex, located at 1775 Dove Lane. Admission is free and seating is first come, first served.
Sunday, Jan. 28, 2 p.m. Farofa 
The chemistry and raw talent of Farofa shines in their intimate, passion-filled and captivating performances that move audiences across the world. The electrifying music combines traditional rhythms with modern styling and influences of rock, jazz, flamenco, contemporary classical, pop, deep African rhythmic tradition, Balcan music and that from their native Brazil. Farofa has been honored as the recipient of the California Presenters Spotlight Award, as well as runner-up at the Samsung E-Festival 2016. There is no denying that Farofa's passion and dedication to performing fresh, new music continues to shine through at every show. Farofa is sure to deliver a musical experience not to be missed.
For questions, contact the Carlsbad City Library at 760-602-2049 or librarian@carlsbadca.gov.
"Join us on Sunday, January 14th from 5:30 – 7:30 PM for a sensory friendly family roller skating party at Skateworld! All ages are welcome to participate, and volunteers will be on hand to help. Non skaters are welcome on the rink in closed toed shoes, and food and drinks will be available to purchase. You won't want to miss this fun family event!"
Click here for ticket information.
It's the most wonderful time of the year to reduce, reuse and recycle! Here's a tip: Reuse your gift bags, wrapping paper and tissue paper whenever you can. Let's all do our part to help keep Carlsbad beautiful this holiday season.
Click here to learn more!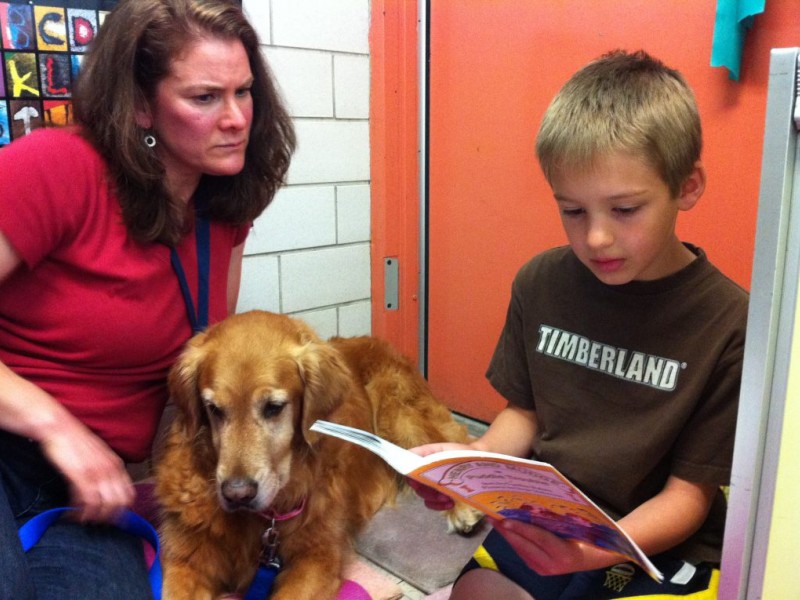 Paws to Read
Read your favorite book to a four-legged friend!
Pet Provided Therapy group will bring specially trained dogs to the Dove Library.
Kids will get the chance to meet the dogs and read their favorite books to them.
To learn more about the San Diego Love On A Leash: Paws to Read Program, click here.
Dec. 15 – 31, 2017   – Times vary by date.
 2260 Jimmy Durante Blvd, Del Mar, California 92014
From Frozen Fairgrounds:
"Come out to skate, play and chill with us through the holidays. Our Community Rink is the largest holiday ice skating rink in San Diego and our  NHL Hockey Rink is the first full size outdoor ice hockey rink in the history of San Diego.  Whether you play ice hockey, figure skate or just love to skate during the holidays. Frozen Fairgrounds at Del Mar has enough ice for everyone!"
Visit Frozen Fairgrounds at Del Mar for more information.
Celebrate the 10th Anniversary of Science Saturday!
"The City of Carlsbad is hosting a Science Saturday 10th Anniversary Celebration on Oct. 21 at Carlsbad City Library, located at 1775 Dove Lane.
The community is invited to celebrate a decade of science, technology, engineering, arts and math (S.T.E.A.M.) programming at the library with special guests, exhibits and activities.
The event runs from 1 to 4 p.m. Admission is free."
For more information, click here.
"Calling all fans of toasting and tasting! Mike Hess Brewing in North Park is once again teaming up with the Autism Society and Dang Brother's Pizza for a night of fun supporting our summer recreational programs. Come eat, drink, and explore a fabulous silent auction with a wide variety of items for all tastes. We will also feature an opportunity drawing – last year's winner won over $300!"
"The Autism Society San Diego is proud to present the first ever, 'Lights! Camera! Autism!' art and film event. This is a celebration of the talents of many autistic and developmentally delayed young adults in our San Diego community who are learning valuable skills in the art, music and film industry with an eye on future employment."
Click here to learn more about the Autism Society of San Diego.
Evidence Based Practices for Autism Spectrum Disorder 3rd Annual Conference: Supporting Independence
Learn about the research and practical guidelines for using evidence-based practices to promote independence.
Keynote Speaker: Jillian Paramore, Disability Advocate
Here at Pistachio we love contributing to our community. Autism holds close to our hearts and we understand the every day struggle some families may face. Amy Munera is a wonderful woman whom has been a voice for these children and has done tremendous in helping these families. Help support her and her team for the Second Annual Walk N Rock for autism! Click the link below to donate today!
"Welcome to Rocking Racers!
Please join us at the second annual Walk N Rock for Autism and help us make a difference in the lives of people affected by autism in San Diego county! All funds raised will go to recreational programs for autistic people, including Camp I CAN (AKA the best week of the summer), AWARE, our adult summer recreation program, and more! These programs make a difference in people's lives, and with your help, we can reach more people every day! Thank you!!" -Rocking Racers
Click here to support Amy!
Shop at Pistachio and know that your purchase is helping the Autism Community! Autism Awareness holds a special place in our heart. Therefore, we have pledged to donate 2% of all shampoo and conditioner sales to the Autism Society of San Diego on a continuing basis.
Click here to learn more about the Autism Society of San Diego.